Potraviny, květiny, léky, catering, krmivo pro zvířata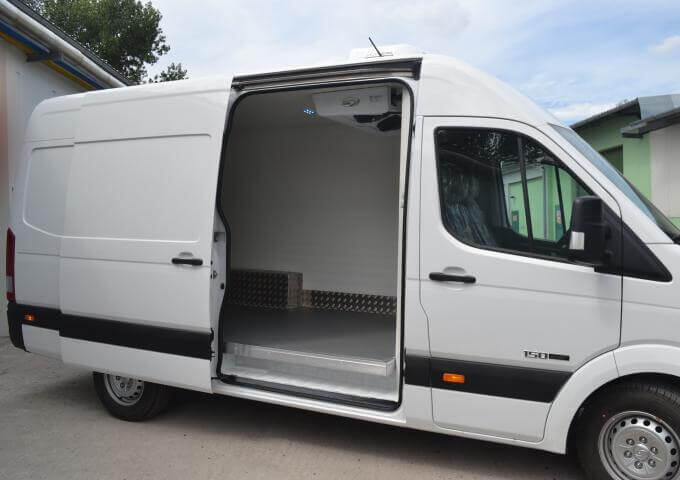 In order to achieve minimal heat losses, we are thoroughly insulating the load space of the vehicle and then installing the refrigeration unit. Cold store fittings are suitable for goods that need to be transported in a certain temperature regime (food, medicine, flowers, etc.). We use thermal insulation panels that meet the requirement for indirect contact with food.
EXCELLENT PRICES + RELIABLE COOLING TECHNOLOGY + QUICK DELIVERY DELIVERY
Refrigeration units for isothermal installation
We select the appropriate refrigeration unit according to several parameters – especially the volume of the insulated load compartment, the required temperature in the load compartment, the function of the refrigeration unit (cooling / cooling + heating) and the method of driving the refrigeration unit. Here are the options for driving the refrigeration units we use:
Drive from vehicle engine – function only when the engine is running
Drive from vehicle motor + electrical connection 230 V / 380 V – vehicle engine running + engine quiet regime
Powering the vehicle battery – for vehicles with a smaller volume of cargo space
We rely on reliable refrigeration technology and a serious approach.
We also supply separate cooling units including the compressor holder and other accessories.
If you need temperatures below -10 ° C, please visit the freezer compartments.
Refrigeration installation
To minimize heat loss, insulate the vehicle's load compartment by insulating panels. Mostly, the insulation thickness is 40 – 60 mm, depending on the required temperature inside the load compartment. We adjust the floor so that it can withstand the working conditions in the long term. It is predominantly anti-slip sheet, soft vinyl or anti-slip cast floor. In case of interest we will equip the installation with spacer rods for convenient cargo locking. We often produce rack systems for our clients according to their needs. We would like to customize the refrigerator installation for every customer according to his needs.
If you need temperatures below -10 ° C, please visit the freezer compartments.
To make your refrigerator complete, we offer accessories:
Paint the refrigeration unit into the color of the vehicle
Parking camera
 Temperature recorder
Anchor elements in the floor or walls of the refrigerator
Shelves (according to customer needs)
Expanding rods for cargo hold
Independent heating
Additional LED illumination inside the cargo compartment
12 V socket
Other add-ons on client's request.